When we left our taxi and walked through the front archway to our beachfront condo at the Costa Dorado in Bucerias, I felt like I had stumbled into some kind of Mexican Marigold Hotel.  We were greeted by all sorts of elderly characters; in the pool, lounging bar-side, sitting around tables shaded by umbrellas – all waved a friendly welcome.  "Buenas Dias!"  Many were Canadians down for a winter break.  All were over 65.  My young 14 year old daughter scowled my way.
"Where were the youngsters?  Where were the boys?  Where was the all-you-can-eat buffet?"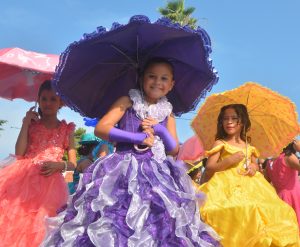 Not here, my dear, this is Bucerias, a charming antidote to the hustle and bustle of nearby Puerto Vallarta.  Bucerias, meaning "place of divers," is a small coastal fishing village on Banderas Bay in the state of Nayarit.  I love the convenience of a great all-inclusive resort just like the next guy, but I had heard that this quaint village was a haven for travellers seeking a little bit more of an authentic taste of Mexico.  I just hadn't realized that most of these savvy travellers were slower-paced retirees.
Bucerias has an old-fashioned festive feel, particularly around the beachfront open-air market.  The centre of town features the ubiquitous Mexican town square complete with gazebo, church, and market. Cars share the cobblestone streets with horses and tourists, and, in the early morning, fishermen set out from the central beach area.  It has a wide, uninterrupted, white-sand beach that stretches for miles.  Ambitious beach strollers can walk to Nuevo Vallarta in the south and La Cruz in the north.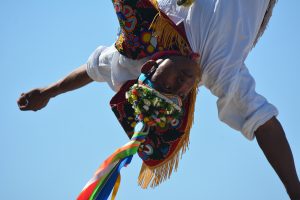 The village offers a great range of dining experiences, from the higher-end to the more low-key, casual spots that focus on authentic Mexican cuisine.  There is an awesome culinary discovery waiting on every corner.  We loved the smaller family run establishments like Little Bull or Comida Corrida, where you can bring in your own beer or wine and eat on the outdoor patios.
 While its miles of beaches offer the perfect setting to lounge about and do nothing, there are activities worth trying. Thursday evenings are art walk night, when visitors are encouraged to check out a vivid art scene.  Galleries along Lazaro Cardenas Street remain open late, serving cocktails and refreshments.
One trip I won't recommend is a boat trip to the Islas Marietas, that is, unless you enjoy chaos and crowds.  Off the coast near Punta Mita, the islands are home to an abundance of birdlife and a place called "Hidden Beach," which is only accessible by swimming through a 50-foot rock tunnel.  Sounds romantic, but you are swimming through the entranceway with a disorganized hoard of thousands of other thrashing and panicking visitors, all wrapped up in orange, key-hole life vests.  I felt like a survivor from the Titanic, only the water was warmer.  You'll find that the beach is no longer hidden.Instead, take a tour in the Sierra Madre Mountains to the old colonial silver mining town of San Sebastian, tour a tequila distillery, or venture out to one of the ranches just outside Bucerias for a horseback adventure.  To get back on your daughter's good side, you can arrange a massage for her on the beach, take her to Dolphin Quest in Puerto Vallarta to swim with these amazingly intelligent creatures, or rent a SUP and send her off in search of whales.
I enjoyed nothing better than sitting in the shade of a 'palapa' on the beach in the early morning with a cup of coffee, enjoying the sweeping views over Banderas Bay, catching a glimpse of dolphins feeding not far off shore, or the pelicans diving into the surf after fish.  In the evening, from the same vantage point but with a margarita or glass of wine, you can enjoy the impressive sunsets that are a daily part of the bay panorama. Bucerías is a coastal gem, a traditional Mexican town filled with Huichol heritage and fronted by miles of splendid beach.  The town is a very attractive place to retire from the bustle of it all.  The sage visitors staying at the Mexican Marigold point out that it reminds them of what Puerto Vallarta was like 50 years ago.  Oh, the wisdom of years!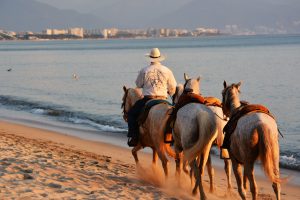 If You Go:
Bucerias is easy to access, a short taxi ride north of the Puerto Vallarta Airport.  No need for a car here, you can walk almost everywhere, and for places a bit farther afield, a trip on a city bus is something to be experienced.  The ideal time to plan your vacation is during the dry season, November – April.