My wife begins her Christmas shopping in the summer, and starts decorating for the holidays before the calendar flips from November to December.  Now, I'm by no means a Grinch, but I usually round into the spirit of the season by Christmas Eve – much to my spouse's chagrin.  This year, perhaps she has found a tonic for my humbug approach, a visit to Stratford, one of Canada's prettiest small cities.
Downtown Stratford has that nostalgic feel of the traditional Victorian Christmas.  Its charming heritage streets are aglow with Christmas lights, cedar boughs, garland, bows and wreaths tied up with ribbons.  Lights twinkle off the festive store windows, and the snow dusted walkways.  The picturesque village offers holiday shopping, theatre, horse-drawn carriage rides, carollers and some exquisite dining experiences.
FOLLOW THE TRAIL
The Victorian Christmas Trail shops are all dressed up for the season; your trail package includes 6 tickets to be redeemed as you wish at your choice of 13 shops.  Among the gift items are giant traditional hand-made peppermint candy canes, locally made brittle, chocolate created using pedal power, tasty holiday preserves, butter toffee and flavoured olive oils.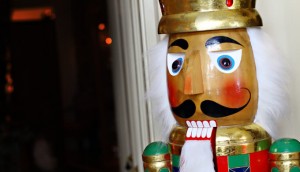 "It is an opportunity to explore new shops and see many unique gifts in a friendly atmosphere," says Cathy Rehberg of the Stratford Tourism Alliance.  "The magic of our Victorian Christmas includes a wide range of experiences to mark this festive season."
A WIND IN THE WILLOWS
One of those experiences has become a cultural tradition, "A Wind in The Willows Christmas."  The theatrical production takes place from Dec. 17 to 30 at the Stratford Masonic Concert Hall (15 Church St.).  The performance's premier last year was an instant hit, and the original cast will reprise their roles as Mole, Ratty, Badger and Field Mouse. Special guest star Graham Greene will join the cast as Toad.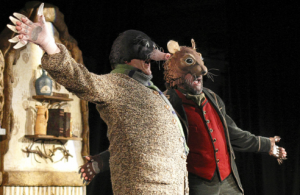 DINING
At the heart of the seasonal celebrations is, of course, food, with holiday pairings of tea and chocolate, craft beer dinners and internationally inspired menus created by the Stratford Chefs School's aspiring chefs. The weekly farmers markets and local food purveyors are bursting with offerings for that holiday feast and tasty gift-giving.
If You Go
Directions: Stratford is about one and a half hours west of Toronto.
Stay:  There are enough historic bed and breakfasts and comfortable hotels to meet most any budget.  I would recommend both The Ballantyne B & B (www.172ballantyne.ca) steps from the theatre or the historic Mercer Hall Boutique Inn (www.mercerhall.ca) downtown.
Tours: Victoria Christmas Trail tickets are valid for three days from the date of purchase and cost $25 (plus tax), with a value of about $40 in goods.  The archive tours, costume warehouse, theatre backstage, food trails and heritage walks are also available throughout the season.
Visit www.visitstratford.ca for more details.
Images Courtesy of Visit Stratford