Are You Afraid of the Dark?
"City Ghost Walks Perfect for Halloween"
Ghosts are not real. At least, I don't believe in them. Still, as our bus enters the massive Chinese cemetery in the middle of Kuala Lumpur, Malaysia, I peer out of the window into the darkness with a sense of dread. I put on a brave face, as do all my ghost walk companions, but our laughter sounds a little forced.
Our guide tells us of an earlier visit, when the bus arrived during a violent thunder storm. A bolt of lightening lit the scene, and the petrified onlookers swore collectively that they saw hundreds of spirits flitting back to their graves. I'm hardly convinced, but, as I depart the bus and am handed a burning stick of incense to ward off the un-dead, I feel a lingering feeling of unease.
Blades of grass, moved by the wind, scratch quietly across crumbling headstones, while shadows from the full moon dance across tombs, playing tricks with my eyes. The screech of what must be a cat, sounds like an old woman shrieking shrilly at me in Chinese. No, I don't believe in ghosts, but I'm happy when I am back on the bus, ridiculing the foolishness of it all.
Asian Spooks …
Ghost walks are great for giving a visitor a feel for a distant culture and the history of an ancient city. Such is the case with the Asian Spooks Tour in Malaysia, a very tongue in cheek presentation where, before we depart, we are required to sign a declaration that we have never been predisposed to be possessed by spooks, nor will we allow any of our previous lives or reincarnations to surface. I scrawl my signature with confidence. We visit things as diverse as a colonial railway station, a Hindu temple, the Chinese cemetery, an abandoned Pudu prison, and a dark laneway reputed, according to our trustworthy guide, to be a nest for Asian vampires.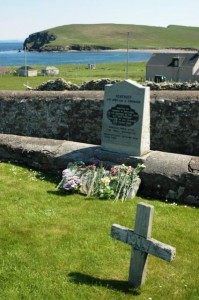 Mayhem in the Scottish Mist …
For ghostly atmosphere, nothing can compete with a ghost walk through the foggy, cobbled streets of Old Edinburgh. Following a black-cloaked, lantern-carrying guide, we visit the sites of horrific tortures, murders, and supernatural happenings, while hearing morbid tales of plagues, witchcraft, and grave robbing. A bizarre cast of eerie apparitions appear from the mist to tell their gruesome tales. We meet the infamous body-snatchers Burke and Hare, Angus Roy, and the blue gowned beggar.
We tour through the winding closes and ancient buildings of the Royal Mile, hearing stories of public executions, spectacles meant to satisfy the blood thirsty Edinburgh mob of the day. Outside the City Chambers, the devastating effects of the 1645 outbreak of the Plague are depicted in graphic detail, including the heart-breaking story of the residents of Mary King's Close who, after being infected by the Plague, died imprisoned in their homes denied of both food and water. Though we feet bad, we hurried on after learning we were standing directly above the infected alleyway.
Our tour ends in Old Edinburgh's underground vaults, candle-lit chambers beneath the city's South Bridge. The vaults were originally used as workshops and houses by businesses on the bridge, but were abandoned as damp and uninhabitable. They became the evil lair of body snatchers and murderers, and psychics have recently found ample evidence of the paranormal. That is enough for me, off I go with the terrified group to the infamous White Hart Tavern for a dram of scotch … or two.
Macabre Montreal …
Following Edinburgh's lead, drama students in Montreal are hired to research and write scripts, and act the part of historical figures, witches, murderers, and victims. My most recent Halloween had me wandering through Old Montreal's dark cobblestone alleys and lanes, amongst the stone buildings and wharves of her historic port. We visited a sinister array of costumed characters; blood-spattered, zombie-like, decaying, morbid creatures – purportedly people culled from Montreal's sinister past.
Capital Crimes …
Haunted Walks focuses on Ottawa's off-beat history. We are guided by a gaunt, cloaked guide through the downtown, where we learn that this part of our Capital was once a cemetery, until the headstones were removed and the graves ploughed under to take better advantage of the prime real estate. We hear that the Chateau Laurier is haunted by its chief builder, who died on route to the hotel's official opening aboard the Titanic, and that possibly the wrong man was hung for the 1868 murder of Father of Confederation D'Arcy McGee. We debate the evidence against Patrick James Whelan, and the rumour that he now haunts the Ottawa Jail Hostel, over a pint at D'Arcy McGee's pub.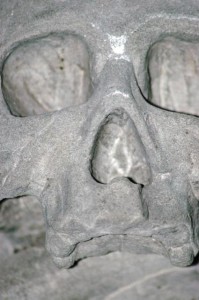 Bewitching BC …
Residents of Victoria claim that their's is the most haunted city in the Pacific Northwest. Visitors can join a Ghostly Walk through the city's Olde Town, Chinatown, waterfront and Ross Bay Cemetery, or visit the beautiful city during the annual October 'Ghosts of Victoria Festival.'
Tour companies in most major cities offer Ghost Walks, each keen to stress their authenticity. A broad spectrum of styles are available, ranging from light-hearted presentations for the whole family, to the genuinely fear-inducing encounters best left to those with nerves of steel. Haunted tours are a great way to learn the history of a city and to spend a dark Halloween evening.