"Out of my element and out of my clothes in the Dominican Republic!"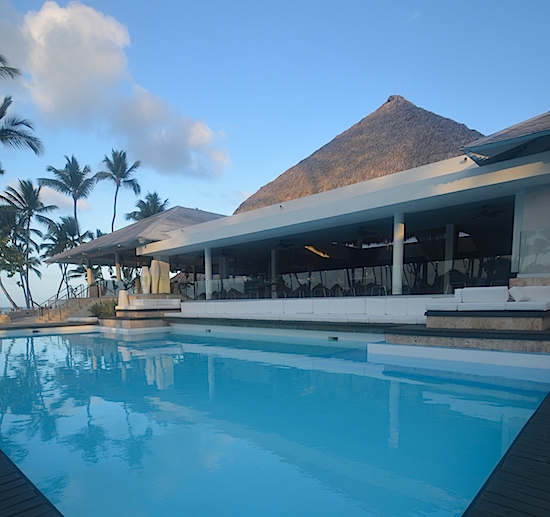 THE MELIA CARIBE TROPICAL, PUNTA CANA – The slippers didn't fit. They were more like toe warmers on my size 12 flippers. My feet hung over the ends, heels dragging along the cool marble tiles as I shuffled my way down to the waiting area. Speaking of fit, I'm not sure the little, white, terry-cloth bath robe fared much better than the footwear. On my 6'2" frame it appeared kind of mini, and I felt it ride up my backside with each step I took. I was beginning to regret this.
"Whatever you do," my colleagues had advised me over drinks the previous evening, "lose the underpants when you go for the massage – naked is the thing." They had convinced me that Joe Boxers were the ultimate SPA faux pas, the supreme insult to the professional masseuse. Now, as I settled into the stark, cold on the butt leather arm chair in the lobby, waiting to be summoned, crossing my legs and adjusting my inadequate apparel, a thought suddenly struck me like the snap of a damp pool towel; perhaps they had been pulling my leg?
I had finally succumbed to peer pressure during a media trip to the Dominican Republic and was headed in for my first Spa massage. I was a Yellowtail Parrotfish out of water: a shy, clumsy man, totally out of his element and completely out of his clothes.
The pretty, young Dominican masseuse grinned at me through silvery braces, and beckoned me to the table. I fidgeted around the parlour whilst asking a variety of inane questions, ("How long have you worked here? Did you go to a massage school? Would you think less of me if I had left my baggy boxers on?") Especially silly queries as I don't think the girl spoke a word of English. Maneeta, as her nametag said, was happy, though, nodding and smiling. She was also astute – wise beyond her years. She discreetly popped out the door, giving me the brief window of privacy I needed to drop the robe, leap upon the gurney, and slip under the tiny towel provided.
I rested my head in my folded arms, hanging over the end of the bed, and stared at the floor in silent reflection. The room smelt of burning potpourri, while the soothing, calming, meditative music of Zamfir on his pan flute lilted down from speakers on the ceiling, interspersed with the sounds of ocean waves and birds tweeting. The dainty masseuse re-entered, and immediately grabbed my ankles and yanked me backward, my face bumping over the head of the bed and settling into its proper spot, in a padded donut shaped hole – yes, of course. "Ah, thank you," I muttered. "You're very strong!" My tiny slippers slipped off my overhanging feet and fell to the floor. I now wore nothing but a look of supreme embarrassment, and a towel over my midsection like a fig leaf.
She slathered me with some stinky, flowery slime and went to work, kneading and probing my calves and thighs, before attacking the muscles on my shoulders. I didn't know whether to scream in agony, or moan with delight. The feeling was balanced somewhere upon the precipice between the two.
As her expert hands worked away at my aching muscles, my inhibitions began to drift away. I was feeling relaxed, even sleepy. I was worried that I might start involuntarily purring like a kitten. I think I was falling in love. I was getting sick of flute music, perhaps I would request some Springsteen. Maybe I should burn some of this incense in my bathroom back home. I was awakened by a harsh snorting snore, and watched in amazement as a string of drool stretched from the corner of my gaping mouth downwards to the floor, without breaking. I now understood the need for this porthole for one's head. Otherwise, I might well have drowned in my own slobber.
No longer will I pooh-pooh the SPA experience. I am a convert feeling revitalized and refreshed. I feel like a new man. I have a new girlfriend – and want to give her a big tip, but realize I have left my wallet in a distant locker. So I scurry, as quickly as my miniature terry slippers will allow, to the change-room and come back holding a few bills – but Maneeta has moved on. She is with someone else. Sadly, I leave my tip at the front desk with a flowery note of thanks and an emotional goodbye.
I shuffle along the stone walkway from the YHI Wellness SPA back to my suite, skirting the big pool, past the swim up bar, through the lounge chairs and thatched shelters. People seem to be staring. Do I look that forlorn? That lovesick? Or, (and this thought only strikes me as I search amongst my scanty clothing for my room key), do I just look like a greased-up man in a kid's housecoat and slippers? Oh my.
If You Go to the Dominican Republic …
In Punta Cana is the newly launched "Level" at the Melia Caribe Tropical, where you can enjoy a holiday that can be romantic, active, or focused on well-needed rest and relaxation. Once you've arrived, you can stash your wallet in the safe and settle in. The only decisions you'll have to make are at the buffet or at the door of your room, where the stone walkway takes you through immaculate grounds and gardens either to the pool or to the palm fringed private beach.
On the food side, the buffets are varied and splendid, and there are also the Asian, Italian and Mediterranean restaurants of Cuatro. This new establishment is divided into four different dining experiences, including Uno, traditional steakhouse; Dos, a Gastro Pub; Tres, a fusion of Peruvian fare with Japanese and Cantonese cuisine; and Cuatro, a beachside buffet serving international cuisine. As a former Spanish Colony, many of the local dishes carry a familiar Latin American feel, with an unlikely mixture of influences; European, African, and native Taíno Indian cultures.
If you want to get a little active, the resort has a water sports centre with kayaks, windsurfers, paddle boards and sailboats. You can book a dive or snorkel excursion, para-sailing, or a catamaran tour. Guests are able to indulge in the resort's "Experiences Menu," featuring special workshops, dinners on the beach, romantic private breakfasts, and Energy for Life activities like Body Balance – a mix of yoga and Tai Chi. If you are travelling with children, the "Kids' Zone" will occupy the little ones, while the adventure park and rock climbing wall entertain those a bit older. My ground level room features a Jacuzzi, spa shower, and something called a pillow and fragrance menu. The service is impressive, and the kindness of the Dominicans is wonderfully authentic.
Yhi Wellness …
The Yhi Wellness SPA at the Melia Caribe Tropical is built to carry you away from the cares of the world. May I recommend a massage treatment, where you can lose your clothes and fall in love.
For more information: www.meliacaribetropical.com