Celebrating Icewine – One Very Cool Festival
The snow and chilly temperatures set a perfect winter scene in beautiful Niagara-on-the Lake, as my wife and I bundle ourselves in parkas, mitts and wool hats.  We set off from our Bed and Breakfast towards Queen Street, wandering past snow-draped vineyards, the region's famous grapes seemingly asleep under a white shroud.  We trek into the town's historic downtown.  Our plan is to sample the best offerings from the region's 28 wineries, to enjoy the wine, food and live entertainment and to learn more about Niagara's liquid gold.
It just seems a very Canadian thing to do, rather than going into hibernation through the icy months, we have found various ways to celebrate winter. There is hockey, of course, and skiing, curling, dog sledding, and snowshoeing – and, there is icewine.  Every January, when the temperatures drop, select Niagara winemakers gather their crews, and venture into the vineyards in the middle of the night to hand-pick the frozen grapes.  Then, to celebrate their good fortune, they welcome visitors from all around to sample the region's unique winter wine, paired with the local cuisine.
Heading into its 20th year, the Annual Niagara Icewine Festival is a uniquely Canadian winter experience, an outdoor street festival with live music, gala dinners, ice sculptures, icewine marshmallows to roast over open fires and lots of icewine tastings to help warm you. We move around sampling the icewine offerings from area wineries, while enjoying delicious savoury and sweet treats from local restaurants.
Often touted as Canada's greatest liquid luxury, icewine is made in only three countries, and undoubtedly made best here, which is why we have become the world's leading producer.  More than any nation, we have the right climate. Our growing conditions combine warm summers with cold winters, allowing Canadian winemakers to reap the benefits of this special winter harvest.  The grapes for Icewine are picked at temperatures of at least -8˚C so that only the highly concentrated juice is pressed from the frozen berries, leaving behind the icy water crystals.  The result of these unique climatic conditions is a deliciously sweet wine, with intense flavours and aromas, and an exceptionally high concentration of sugars, acids and extracts from the grapes.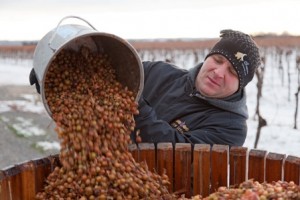 Admission is free for the Niagara-on-the-Lake festival, where the town's main street has been transformed into an icewine village.  Hundreds of people mingle, tasting icewines from the wineries and sampling edible delicacies from signature kitchens.  We stop to marvel at the ice sculptures.  There is a Flash & Panache Icewine Cocktail Competition where shaken, stirred, mixed and occasionally muddled concoctions are thrown together by local mixologists.  The only rule is that they include icewine in their cocktail repertoire.  The cocktails are sampled and scored, in a competition to win the Icewine Cup.  I volunteer to become an official judge, but my wife's fingers and toes are beginning to freeze, so we pick up a festival discovery pass and venture inside the wineries to experience wine pairings in a warmer, cosier atmosphere.  The pass ($40) includes eight wine pairings, with a mocktail and food pass ($30) available for "designated" drivers.  Thank goodness, my wife and I had chosen to walk, helping to avoid a marital spate.
Visitors looking to learn more about icewine can sign up for a tasting class. I was treated to an enlightening pairing class at Reif Estate Winery, where I learned the proper technique for savouring every sip – let the wine linger on your tongue.  I try to resist the urge to gulp it down.  Weekend packages include the 'Get Schooled in Cool' tasting seminars and an icewine inspired dinner.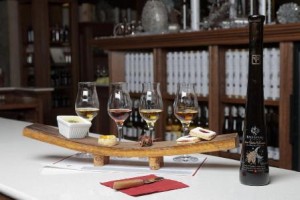 There is something very romantic about sipping icewine outside in a winter wonderland; with the snow falling, a bonfire crackling, and people bundled up in hats, gloves and winter boots, celebrating one of Niagara's most unique products.  You haven't really experienced winter's rare gift until you have enjoyed it outdoors in sub-zero temperatures.  It's just so Canadian.
If you Go …
Where to Stay – From five diamond hotel properties to charming inn and bed and breakfast homes, there are plenty of accommodation properties. Reservations can be arranged through the Chamber of Commerce Accommodation Booking Service. We stayed at the engaging and very comfortable Wine Country Bed and Breakfast. stay@winecountrybb.com
Dining – We escaped the cold for an exquisite meal at The Charles Inn by Chef William Brunyansky. Built in 1832, this white neo-Georgian house with the ambience of a colonial mansion is one of Niagara-on-the-Lake's oldest buildings, and is recognized by Wine Spectator as one of the best dining experiences in town. www.charlesinn.ca
Visitor Information – Contact www.niagaraicewinefestival.com and www.wineriesofniagaraonthelake.com