Find Some New England Charm Skiing New Hampshire's White Mountains
"Let's ski the Whites," my friend says every year when a family March break trip is being discussed.  After finally agreeing to his suggestion, I was forced to admit that I didn't even know where "The Whites" were – I had assumed they were big and white and in British Columbia.  (New England … really?)  In retrospect, I'm not surprised by my friend's choice, he still likes to call things "groovy," talks about shredding cord (groomed runs), and loves those circa 70's juicy fruit commercials-so his desire to want to ski in a funky, frozen-in-time New Hampshire valley is easily explained.
It took me a little longer to convince.  What I would find, however, was that a New England winter holiday offered much more than simply the skiing.  History lingers in the Whites, in the century-old Inns and B&B's, homey taverns, and gentle, family friendly hills, where you are not afraid to let your kids ski off on their own.  The place is so retro you half expect to see skiers with wooden skis, lace-up boots and bamboo poles swoosh by.  Seldom are there any lineups, especially since our school break differs from the local holidays, and you can ski a different mountain every day of your week-long stay, all within a short drive of each other.
The Mountains:
Attitash Mountain:  Attitash and Bear offer up 120 hectares with 73 trails that wind through Bear's woods. There are lots of choices for a day on slopes, and if the kids tire, they can tackle the Nor'Easter Mountain Coaster, a wilderness roller coaster that plummets through the trees.
Aprés-Ski:  The Red Parka Steakhouse and Pub is legendary for its prime-rib dinners and a popular venue for live music on weekends.  Photos on the wall portray the skiing history of the area dating back to the 1920's, and don't miss out on the quaint pub tucked at the back of the establishment, with licence plates from around North America tacked on its walls.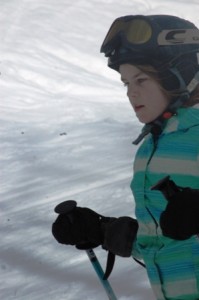 Bretton Woods:  New Hampshire's biggest ski area, featuring well-groomed snow, a variety of glades, and dramatic views of the highest peak on the Eastern Seaboard, Mount Washington .  It's a gentle hill more geared to families.
Aprés-Ski:  Head to the spectacular Mount Washington Resort, one of only four remaining Grand Hotels, a sprawling white estate built in 1902.  Show up at 10 a.m. under the grandfather clock in the lobby for a great free tour, or wander on your own through ballrooms, restaurants, cafés and bars.
Wildcat:  You'll find yourself distracted on your first few runs on Wildcat.  It is the Northeast's highest peak at 1,916 metres, with spectacular panoramas of Mount Washington.  In fact, Ski magazine rates Wildcat tops for scenery in North America, and with no condos, its wild all around.
Aprés-Ski:  Enjoy a dinner at the 1785 Inn, the oldest building in the Mt. Washington Valley.  The kids loved the banana flambé, prepared with great zeal right at the table.
Cranmore Mountain:  New England's most historic and family-friendly ski areas, featuring 1,200 feet of vertical, five terrain parks, and alternative attractions like a mountain coaster, an adventure park with a zipline course, a giant swing, and a 10-lane snow-tube park.
Aprés-Ski:  The Margarita Grill offers sustainable south-western inspired cuisine and the best margaritas anywhere.  It has been awarded The New Hampshire Farm to Restaurant Connection certification for its commitment to buying from local growers and producers, one of four restaurants state-wide to achieve such status.
The Jackson Cross Country Ski Centre is the best in the Northeast, with groomed trails running through town and into the forested hills.  After the exercise, cozy up with a local micro-brew in front of the brick fireplace in Jackson's Wildcat Inn.  New Hampshire has a thriving micro-brew scene, with more than a dozen breweries state-wide.
New Hampshire's White Mountains offer great groomed runs and grand glades. The proximity of ski areas allows visitors to sample multiple resorts on a single vacation, and visitors here can stay in historic hotels or country inns and experience the region's Norman Rockwell culture up close.  It is a postcard perfect kind of place.
Contact:  www.mtwashingtonvalley.org