The last time I attended the boat show, I ended up buying a boat.  So I have been reticent to return ever since.  I know what you're thinking – isn't that a reasonable thing to be doing at a boat show?  Well, my darling wife would certainly agree.
For me a boat show is more about admiring and dreaming.  I see a speedboat, and my mind drifts off.  Suddenly I am James Bond, racing around the bay after some evil mastermind – with a bevy of bikini clad ladies lounging in the bow seats, of course.  When I see a sailboat, I imagine myself hiked out, bearing down on the finish line in pursuit of America's Cup.  Down one aisle I happen upon a sleek jet boat, and I zone out.  I am dressed in leather hood and goggles, skipping across the lake, out to break all the speed records.  I come across a beautiful yacht, and I am suddenly the millionaire skipper.  I ask daft questions like: "What does the gas cost to run this thing?" – A query which immediately clues in the perceptive sales representative that I am indeed not a millionaire, nor a potential millionaire's yacht candidate.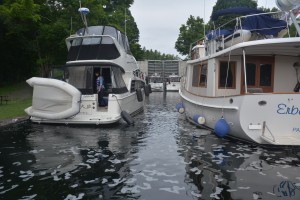 When a smooth-talking sales person sees me staring dreamily at his runabout and approaches, I ask a few inane questions, take a handful of brochures and a tidy business card, tell him that I want to check out the rest of the show before returning to make the purchase, and then make my escape, making a mental note of the area of the show to avoid for the rest of my visit.
My wife, on the other hand, ignores all the fancy vessels, sleek watercraft, lightweight canoes and polished wooden rowboats, she even ignores me until she comes across a comfy, practical pontoon boat, and says: "This is exactly what we need."  The sales rep moves in.  No matter how many useless excuses I throw out there to ward him off, I know I've lost the battle before it has even begun.
We can't afford it!  "Yes," says my spouse, "the payments are really quite doable, if we pay monthly for 50 years."  I'll be dead by then!  "Good, then I can pay it off with your life insurance."  It doesn't match my truck.  "Yes it does, silver truck – silver pontoons."  Our humble cottage dock might be too small.  "No worries," counters my problem-solving mate: "New docks are in aisle 1."  Hmmm, (I imagine the cost and work involved with that).  On second thought, I think it will fit!  She takes this as a yes.  We buy the boat.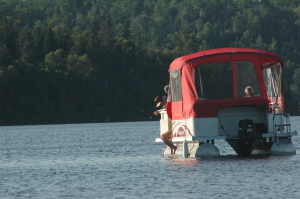 It is a difference in shopping philosophy, really.  My wife likes to buy things and then tell me how much she saved.  I like to not buy things, and then tell her how much I saved.  If I go to a farmer's market, I am able to walk around, booth to booth, display to display, checking out the wares, squeezing the tomatoes, admiring the crafts, and easily leave empty handed.  Not so my wife – she would think it a supreme failure if she didn't have her arms full of bags upon departure.  She sees value in all sorts of trinkets and gadgets.  I am not a browser.  If I go into a store, it is with a particular purchase in mind.  If my wife gives me a shopping list, I return home with everything on that list, and nothing more.  "Is this all you got?" she will ask incredulously.  "Was there nothing interesting on sale?"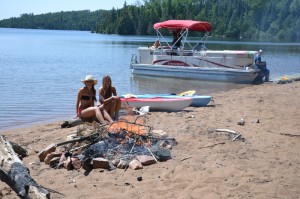 I do have to admit that the pontoon purchase was actually quite prudent.  The boat has proved its worth at the cottage, time and time again.  It is particularly valuable ferrying people and gear back and forth to our island.  The vessel adds extra space when attached to the dock, a comfortable sitting area for lunch or for the revelry of the cocktail hour.  When we zip in the enclosure, the boat becomes a bunkie for extra guests.  Quite often we run up the lake at midday, beaching the boat on the beautiful crescent of sand that rings a bay on our lake's north shore.  We start a driftwood bonfire and roast hot dogs on willow sticks.  After dinner, on a pleasant summer's night, we like to head out for an evening cruise.  We tour along the south shore of our lake to do some cottage watching.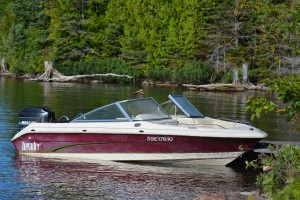 Why am I telling you all this, you may be asking.  Well, my wife has been making noises about replacing our aging runabout, the ski boat that is more about fun than the practical pontoon.  She tells me that we should hit the Toronto International Boat Show this weekend, just to have a look.
So, if you see me there, please say hello.  I'll be the nervous, stuttering fellow that the sale's people will be ignoring, concentrating instead on my beautiful wife.