True Love, Old Age and the Cottage
"You've got to be kidding," states my teenage daughter. "I thought we were going to watch a cool movie tonight … who are these old farts?"  She is holding up the DVD case, on which is a sepia-toned photo of an old Katharine Hepburn and an equally ancient Henry Fonda.  All my kids are staring at me, as is my wife.  Well, actually, my son is taking advantage of the disruption to cram as much of the popcorn into his mouth as possible, without his sisters seeing or complaining.
I try to explain who they are – "You know, she was in African Queen."  "What?"  "He's Jane and Peter's Dad" – blank looks, "you know, the Jane Fonda workout!"
I realize I may have made a bit of a mistake here.  On a cold, rainy, miserable Spring evening, a rare night when there is nothing else on the go, I had received a call on my cell phone asking me if I wanted to pick up a movie on my way home.  "There is nothing on tonight, so we thought we could watch a good family film," says my wife.
I perused the new releases, the action thrillers, vampire movies, love stories and comedies, and found nothing that quite struck my fancy.  I began glancing through old releases, and that is why I came across "On Golden Pond."  It seemed inordinately dusty.  That should have been my first warning.  The second should have come when the young female clerk began punching it into her register, stopped, looked at the jacket, scowled and shrugged.  "Hmmm, never heard of that."
I remember that my parents loved the movie "On Golden Pond."  She was Hepburn, he was Fonda, and the cottage played the starring role.  Well, my dad has never been as cranky and cantankerous as the old curmudgeon Norman Thayer in the movie, nor my mom as dotty as Ethel Thayer, but it was the idea of the cottage and a summer at the lake that caught their fancy.  My mother took to calling my dad an "old poop."
I remember my parents trying to get us teenagers watching the movie when it first came out.  We were equally as mortified at the prospect.  Where was the action?  Where were the car chases, gun battles, secret agents and scantily clad ladies?  (Well, Jane Fonda in a bikini … if I'd only known).  I had felt my own kids were more mature than I was.  I put the movie in and we all start to watch.  I bet they'll like it, I thought.  They barely make the opening credits.  As I'm laughing at Fonda's telephone antics, my oldest gets up, looks disgusted at me, and then turns to the others, "Who wants to play PS3?"  They file out, my son taking the popcorn.  I'm glad my wife remains, that is, until I throw a sheepish smile her way and notice that she is sleeping.
It is a dream many of us have.  We long for that day when our work-a-day world is winding down, and we can head for the cottage shortly after the loons return to the lake in spring, and stay there until all the colourful autumn leaves have tumbled to the ground.  There will be no work forcing us to commute, no soccer matches and hockey camps to schedule our cottage time around.  We will be able to head up for most of the summer.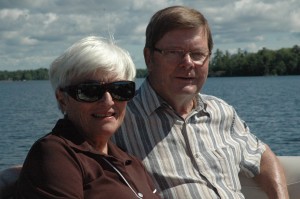 The trouble is, of course, that there is a short window between retirement and old age, when the daily rigours of camp chores and maintenance become harder to achieve.  My folks still love to play the roles of Fonda and Hepburn, they love to head up to the cottage stage.  They love it when the whole family is there, but it is hectic.  They prefer being up there on their own. Frankly, we worry about them a bit.  There are many things that could go wrong.
They relish the routine.  Dad gets up early and delivers a coffee to mom in bed.  He makes his famous cottage breakfast and they eat on the dock.   They jump in the lake to cool off and do the front crawl out a hundred metres from the dock and then back.  While they used to spring nimbly up on the end of the dock, they now walk out a little more gingerly to shore.  Friends pass in boats and pull in for a chat.  Sometimes dinner invitations are made.  Mom sews new curtains for the cabin.  They cease all work at 4 o'clock, the cocktail hour.  Like Norman and Ethel, they hear their loons and grab the binoculars for a look.
We needn't worry.  They are fine at the cottage still.  They have good friends who watch out for them.  More importantly they have each other.  Years of cottage experience more than make up for aging muscles.  There is something to be said for true love, old age and the cottage.